How To Do Box Braids | With Cornrows
35 Individual Braids Styles
Single Braids Styles
Whether you're looking to take a break from styling your natural hair daily or you want an instantly long and versatile look, individual braids are one of the most popular protective styles. With added extensions for extra color and length, your imagination is the only limit to all the ways you can wear these braids. The traditional way to wear individual braids involves braiding extensions with your natural hair to cover your head in plaits. But crochet individual braids are gaining popularity among women who want to install individuals at home in a fraction of the time. Keep reading to learn how to do individual braids with synthetic hair, and to see 35 of our favorite individual braids styles.
How to do individual braids with synthetic hair
Synthetic hair is popular for creating length and volume in individual braids. It's also lighter, cheaper, and grips better than human hair extensions. To add synthetic hair to your individual braids, separate a small piece of your natural hair. Take a section of synthetic hair and fold it in half, holding the fold behind the base of your natural hair. Now begin braiding a three-strand braid, beginning with the synthetic hair as your left and right pieces and your natural hair at the center. Braid a few stitches, then stop when your natural hair is back in the center. Add a piece from either the left or right strand into the center strand, so that you have three equal sized pieces that each feature some synthetic hair. Continue braiding until the ends, and your individual braid is complete!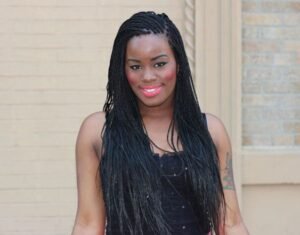 These ultra long individual braids show just how glamorous the style can be. These smaller braids serve up gorgeous, flowing looks when down, but also leave you with tons of options for fancier updos.
Individual Braids with Undercut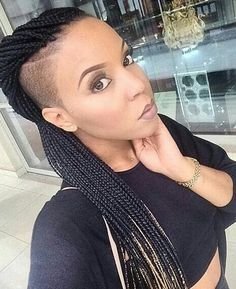 Individual braids can give you a long hairstyle even if you've got shorter natural hair with a wraparound undercut. These braids are fun, edgy, and easy to wear over the summer or for a vacation when you want minimal hair responsibilities.
Sleek and Straight Individual Braids
Solange's individual braids show how glamorous a sleek, straight style can be. This medium length is long enough to wear your braids in different styles, but they won't be as heavy as braids that fall past your waist.
Red Ombre Individual Braids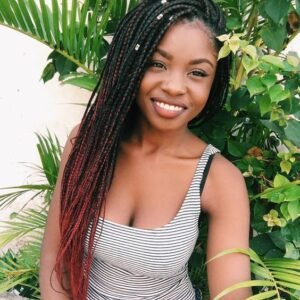 The easiest way to get an ombre color pattern in your individual braids is to buy synthetic braiding hair that's already been dyed ombre. This black and red style is perfect for women who like natural shades up against their face but still want to experiment with bold shades.
Long Crochet Individual Braids
To get a long individual braid style without killing your fingers, pre-made crochet braids are the only way to go. This easy style is perfect for wearing braids in spite of time and money constraints.
Individual Braids Side Style
Unlike some thicker braids, individuals are perfect for creating more complicated updos. Sweep your individual braids to the side to create a sophisticated look that's perfect for attending a wedding or working in a formal business environment.
Red Highlight Individual Braids
Use a few pieces of red to highlight your individual braids. This is an easy way to test out a new color or to use up an extra pack of a different shade.
Loosely Braided Individuals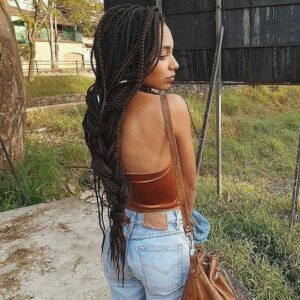 These ultra long individual braids look soft and romantic when tied behind the back in a loose, three-strand braid.
Pink Ombre Individual Braids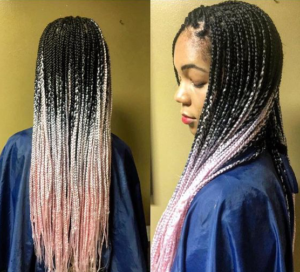 Pink ombre color adds a pop of feminine color to your individual braids, and contrasts beautifully against natural black roots.
Sweep your individual braids to the side for a simple style that oozes understated glamour.
Individual Braids High Ponytail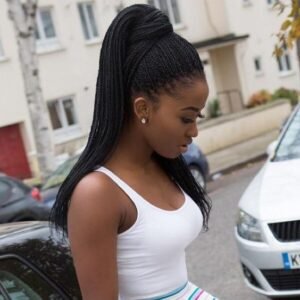 This high ponytail is the perfect way to dress up your individual braids. Not only is this style sophisticated and elegant for special occasions, but it's equally great for busy days when you need your braids to stay secured.
A messy half-up top knot is very on-trend, and also a practical way to keep long individual braids out of your face. New braids might be too stiff to tie up in this style, but you should be able to do it within a week of your hair's installation.
Open End Individual Braids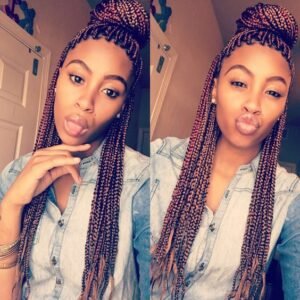 Instead of braiding right down to the ends, you can leave individual braids open to create some soft texture. Keep in mind that synthetic hair may shed more when braids are left open, and you might find your style doesn't last quite as long.
Honey Blonde Crochet Individual Braids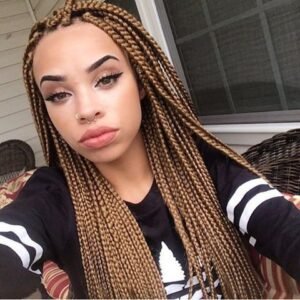 Light tan complexions with golden undertones are perfect for pairing with lighter shades like this warm honey blonde.
Individual Braids Double Buns
If you've got synthetic hair from different packs that you'd like to use up, try a multicolored individual braids style. Whether you wear them in a trendy double buns look or another style, playing with colors helps to distinguish these braids from the natural styles you're used to.
Mid Length Crochet Individual Braids
Waist length braids are almost always popular, but we're in love with this mid length style for this year. Still long enough to wear in different updos, these mid-length crochet individual braids look great on women with long shaped faces, especially when worn with a deep side part as pictured.
Individual Braids High Bun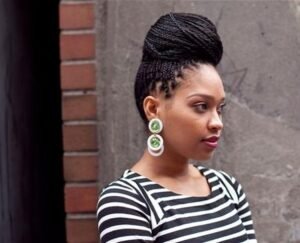 This simple high bun will keep your individual braids perfectly in place, and is an easy way to dress them up for professional engagements.
Blonde Crochet Individual Braids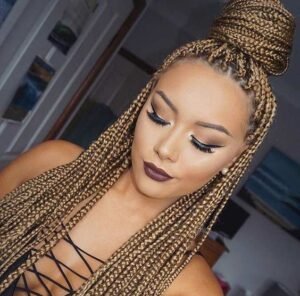 Use warm blonde crochet braids to bring out golden tones in your tan skin. This shade is the perfect way to brighten things up for summer.
Long Skinny Individual Braids
These skinny individual braids are the perfect canvas to create all sorts of different updos. When left down, you'll have a gorgeous style that looks full and flowing.
Twisted Individual Braids Updo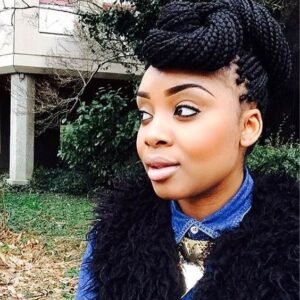 If you want to wear your individual braids in an updo that feels more special than a basic ponytail or bun, try a twisted updo that wraps across the forehead. This classic look is eye-catching, sophisticated, and helps to frame your eyes.
For a protective style bob that looks good on just about everyone, try an individual braids bob that lands at the collarbone. This ultra chic style is equally suited to dresses and heels as it is sneakers and jeans.
Crochet Individual Braids Buns
For newly installed braids that are still stiff or just a more low-key half-up style, these loose buns are a great way to casually pull some hair away from your face.
Green Ombre Individual Braids
For ultra long ombre individual braids, you can add in a second piece of synthetic hair in a different color to create the two-tone effect. Black and green are a fun, edgy color combination that keeps things dark and interesting.
Individual Braids with Beads
Individual braids with beads is one of our favorite looks for summer vacations, music festivals, or anytime the air is warm.
Individual Braids Sleek Bob
Use individual braids to create a sleek bob. Once this look is installed you'll need little to no styling time to create the perfect bob shape.
High Bun Individual Braids
This ultra high bun puts a fun spin on the sophisticated favorite. Individual braids are well suited to creating this chic folded bun, but it can be harder to pull together if you have thicker braids.
Half Up Individual Braids
Pull back individual braids and gently tie or pin together for a soft and easy way to wear your hair. Try this shade of dark chestnut brown if you're looking for a nice subtle way to warm up your complexion.
Red and Blonde Individual Braids
Red and blonde blend together beautifully to create an individual braids style that's full of sparkle and personality.
Cobalt Blue Individual Braids
Use bold color to make a big statement with your single braids. This electric shade of cobalt blue is the perfect compliment for red and pink shades in clothing and makeup.
Try this twisted updo when you want your individual braids to look sophisticated with a vintage vibe.
Half Up Individual Braids
This half up style is a classic way to keep your individual braids out of your way for the day.
Bubblegum Pink Individual Braids
Use brightly colored extensions to turn your individual braids into a big style statement. This candy shade of pink is perfect for pairing with equally bold choices in your clothes and makeup.
Video: How to Style Your Braids or Locs/Twists (15 styles) | JaMexicanBeauty
35 Individual Braids Styles images
2019 year - 35 Individual Braids Styles pictures
35 Individual Braids Styles forecast photo
35 Individual Braids Styles foto
35 Individual Braids Styles new foto
picture 35 Individual Braids Styles
Watch 35 Individual Braids Styles video
Communication on this topic: 35 Individual Braids Styles, 35-individual-braids-styles/ , 35-individual-braids-styles/
Related News
15 Healthy Fall Grain Bowls to Throw Together ThisSeason
Read the full first page here
10 Best Types Of Face Mask For Every Skin Type
Overall, I was really impressed with the Delhi Metro
How to Impress Your Middle School Teachers
How To Celebrate Easter Weekend Besides Sleeping
Kate Middleton Will Give Birth To Baby Number Two ThisSpring
Heart Test Spots Sudden Death Risk in Young Athletes
How to Write a Position Paper
The Best-Smelling Bath Body Line We've EverTried
How to Date when Youre in the Closet
Just How Might Exercise Lower Breast Cancer Risk
How to Name Your Pet Sitting Business
7 of the Cutest Cuticle Tattoos
Vitamix S30: This Blender Will Totally Change Your Smoothie Game (And Life)
Date: 09.12.2018, 15:32 / Views: 53364
---